Blog Archives
Every politician and doctor supporting forced vaccination should be locked up for life
by Crisscross
http://wakingtimesmedia.com/researchers-finally-confirm-cancer-purely-man-made-disease/
http://www.anonews.co/doctors-who-discovered-cancer-enzymes-found-dead/
The chief, if not the sole, cause of the monstrous increase in cancer has been vaccination" – Dr. Robert Bell, once Vice President International Society for Cancer Research at the British Cancer Hospital. None other than the (now deceased) head of vaccines at Merck, Dr. Maurice Hillerman, who on camera admitted that Merck's Hepatitis B vaccines, contaminated with a virus, caused the AIDS epidemic in the US. He went on to say that all of Merck's vaccines are contaminated with cancer and other viruses. (The US government has conceded the HEB B vaccine causes Lupus. That vaccine is mandated for every infant in the US on the day of birth, and is associated with MS as well.)
READ MORE
http://www.salem-news.com/articles/november292011/vaccines-contaminated-se.php
Murdered Doctors Who Discovered Cancer Enzymes in Vaccines*
Murdered Doctors Who Discovered Cancer Enzymes in Vaccines* By Lukas Magnuson A number of holistic doctors in Florida, over 60 of them within one year, who have been found, killed or dead all have one common denominator. They had all found out that an enzyme protein was cancer causing and the protein with the name … Continue reading
https://hwaairfan.wordpress.com/2017/06/06/murdered-doctors-who-discovered-cancer-enzymes-in-vaccines/
Doctors Who Discovered Cancer Enzymes In Vaccines All Found Murdered
Not long ago, Neon Nettle reported on the epidemic of doctors being murdered, most of which were in Florida, U.S. The scientists all shared a common trait, they had all discovered that nagalase enzyme protein was being added to vaccines which were then administrated to humans.(SCROLL DOWN FOR VIDEO) .
Nagalese is what prevents vitamin D from being produced in the body, which is the body's main defence to naturally kill cancer cells.
According to Thebigriddle.com: Nagalase is a protein that's also created by all cancer cells. This protein is also found in very high concentrations in autistic children. And they're PUTTING it in our vaccines!!………………."
http://freedomoutpost.com/doctors-who-discovered-cancer-enzymes-in-vaccines-all-found-murdered/
Murdered Holistic Doctors Discovered Cancer-Causing Enzyme Being Added to All Vaccines
So apparently the holistic doctors who were all being killed in FL had found out via their research that the nagalase enzyme protein is INTENTIONALLY being added to the population via immunizations. Nagalase STOPS vitamin D from binding to the Gc protein. This completely strips a human being's body of it's natural ability to kill cancer cells.
Nagalase is a protein that's also created by all cancer cells. This protein is also found in very high concentrations in autistic children. And they're PUTTING it in our vaccines!! This prevents the body from utilizing the Vitamin D necessary to fight cancer and prevent autism. Nagalese disables the immune system. It's also known to cause Type 2 Diabetes. So basically…they weren't killing these doctors because they had found the cure to cancer or were successfully treating autism… they're killing them because these Dr's had been researching and had the evidence that the vaccines they're injecting our precious children with are CAUSING our current cancer and autism crisis!! And that it's obviously being done knowingly and on purpose! The Dr's they killed in FL had been collaborating and were getting ready to go public with the information.
Depopulation 101..add poison to vaccines…make it law that all children must be injected to attend school. Slow kill methods. They think they're being fair w/ their "survival of the fittest" type mentality. Only the best genes survive? These people have no souls.
http://www.thebigriddle.com/2015/12/murdered-holistic-doctors-discovered.html
Loose cannon Deputy Premier and Treasurer Jackie Trad forcibly exits Cabinet amid sighs of relief from all and sundry. One down 11 to go
The Queensland Premier Annastacia Palaszczuk has refused to ease restrictions for entry to Cape York Peninsula instead deferring any loosening of the state's tightest quarantine measures to a biosecurity review on June 15.
As reported by Cairnsnews, Peninsula residents are becoming quite restless at the prospect of a minimum 12 months isolation for the indigenous population of 5000.
Although there are no recorded active cases of so-called Coronavirus in the Far North permanent military and police checkpoints are preventing entry to Cape York.
The accuracy of the virus testing regime has been ridiculed by senior virologists and doctors.  The Premier, not noted as the sharpest tack in the box, said she is worried about a second wave of the 'virus' which has sent shudders throughout the public, business and industry.
Cairnsnews has been advised by a psychologist, who asked to remain anonymous, that the female dominated government by its very makeup has been unable to make sensible and logical decisions ever since it was formed.
There are too many women in Cabinet because of a discriminatory Labor Party rule which ensures a majority female quota is achieved when candidates are endorsed by the party.
Female Ministers outnumber men 12 to 10 which on the evidence does not make for logical decisions. One example is the highly controversial abortion legislation amendments passed in parliament last year allowing late term babies to be killed.
Deputy Opposition Leader Tim Mander on Friday said decisions by "power hungry" Chief Health Officer Jeannette Young were inconsistent, including one that "defies common sense".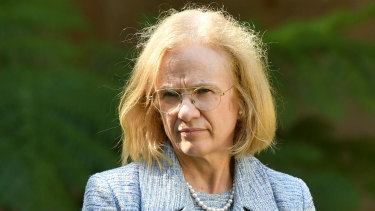 Discussing the emotional distress women often experience, the psychologist referred to the following article from the US publication Everyday Health:
"When a task as simple as a trip to the supermarket becomes an emotional ordeal, Morgan Sheets knows that her period is just around the corner.
The 29-year-old from Indianapolis says that during some months, she notices her emotions becoming more unstable in the five days or so before she is due to start menstruating.
"I begin feeling like everything in my life is wrong and that I'm leading the wrong life," says Sheets, a marketing director.
"Little things like making decisions about groceries to buy or getting dressed in the morning become monumental, and I agonize over them." Sheets says she also becomes much more sensitive and cries more easily.
Sheets is just one of the many women who experience premenstrual syndrome, or PMS, a collection of unpleasant symptoms, such as anxiety and bloating, that typically occur one to two weeks before menstruation and might influence behavior through in the menstrual cycle.
An estimated 85 percent of women experience at least one symptom of PMS per month, the American College of Obstetricians and Gynecologists estimates.
While PMS and its related hormonal changes are often talked about and are even the subject of endless jokes on TV sitcoms, the truth is that the hormones in a woman's body can influence her moods and actions throughout the month.
"We know hormone levels fluctuate throughout the month," says Diana Schwarzbein, MD, an endocrinologist and author of Menopause Power. "There are going to be corresponding fluctuations in other hormones that are definitely going to affect emotions, processes of thought, and physical well-being."
Here's what your reproductive system is doing during throughout your menstrual cycle and how hormonal changes may make you feel and act."
Many decisions made by women in power medically cannot be logical.  Older women going through menopause according to the psychologist, often suffer psychological problems and the nonsensical advice about epidemiology emanating from Dr Jeanette Young flies in the face of research from eminent virologists.
If she lived in India she would be sacred.
Australia following Deep State script to the letter
by Alex Bruce
This is a vaccine truth video, with some recent blurbs from two high-profile vaccine experts. It might  pulled within 24 hours
Robert F Kennedy, Jr
 It is impossible to make a vaccine that's completely safe.
 You are going to injure a certain amount of people.
 Government is going to mandate this product.
 No matter how grievous your injury or your child's injury, no matter how toxic the ingredient, no matter how sloppy the line protocols, no matter how negligent that company, you cannot sue them for redress.
 So, there's no discovery, there's no depositions, there's no medical malpractice, there's no class-actions. There's zero consequence, if they kill you or if they injure you for life, that there's no liability.
 And for a every medical product, the biggest cost is paying liability at the back end. So they just said, "Now, that's scrubbed. We don't have to worry about that. We don't have to safety test them."
 And there's no reason to make it safe, because nobody can sue you, nobody can do discovery. There's no consequence to giving you a really dangerous vaccine.
 It's almost mandatory consumption of that product.
 It's a gold mine.
 If you can get a vaccine on the CDC schedule. It's worth a billion dollars a year, typically to your company.
 There was a Gold Rush and all of these companies rushed on CDC and captured the agency and got them to mandate all these vaccines.
 Dr Andrew Kaufman
 Some of the technological strategies that they're using to create these vaccines are quite scary and unprecedented.
 This vaccine doesn't work in the way that, normally vaccines do, where you have a piece of a virus that's inactivated in some way and inject that in, that causes an immune response and you would make antibodies to it.
 They have to use a special technology. So, it's not like a regular vaccine, where there's just a syringe, with one needle and a liquid containing whatever's in the vaccine and they just put it in.
 This has three needles. So, the needle in the middle is the typical type, that the material would flow through but the other two needles on either side are actually electrodes and what they do is they generate an electric current inside of our cells and this creates what's called electroporation.
 And what happens is that the electricity causes the cell membranes to create little holes called pores and then, the genetic material can enter the cell through those pores whereas, normally the cell membrane would be a barrier and keep the genetic material outside the cells.
 So, they're using this technique and they're basically – this is a form of gene therapy – so, they would actually be changing the genetic makeup of our own cells in the local area where they're injecting this.
 And I think this is something that could be used for all sorts of purposes that we may not know about, because we don't really know what these genes represent.
 Remember, I was talking about the source of this genetic material is undetermined.
 The thing that keeps coming back to my mind, about Bill Gates; he made a statement to the effect of, "Through vaccines and family planning, we could reduce the world's population by 15%."
And 15% of the world's population is somewhere around 1 billion people. Billion with a B.
 And he certainly made other statements, recently that basically: "We will not be able to get back to any kind of 'normalcy' in our day-to-day lives." And he specifically, mentioned things, like concerts or sporting events at arenas, where you have large gatherings of people – "until every single person is vaccinated."
 He's also talking about having this "vaccination passport" or this tattoo or this ink, that shows you've had the vaccination and then that allows you like you to congregate, to travel on airplanes – almost put you in this high "social score" .
 And yes, there is this invisible ink tattoo, which I believe was attempted to be implemented on some children in southern Africa – but was rejected by the local people there – rightfully so!