Too many women in Qld Cabinet and parliament
Republished from May 2020
Loose cannon Deputy Premier and Treasurer Jackie Trad forcibly exits Cabinet amid sighs of relief from all and sundry. One down 11 to go
The Queensland Premier Annastacia Palaszczuk has refused to ease restrictions for entry to Cape York Peninsula instead deferring any loosening of the state's tightest quarantine measures to a biosecurity review on June 15.
As reported by Cairnsnews, Peninsula residents are becoming quite restless at the prospect of a minimum 12 months isolation for the indigenous population of 5000.
Although there are no recorded active cases of so-called Coronavirus in the Far North permanent military and police checkpoints are preventing entry to Cape York.
The accuracy of the virus testing regime has been ridiculed by senior virologists and doctors.  The Premier, not noted as the sharpest tack in the box, said she is worried about a second wave of the 'virus' which has sent shudders throughout the public, business and industry.
Cairnsnews has been advised by a psychologist, who asked to remain anonymous, that the female dominated government by its very makeup has been unable to make sensible and logical decisions ever since it was formed.
There are too many women in Cabinet because of a discriminatory Labor Party rule which ensures a majority female quota is achieved when candidates are endorsed by the party.
Female Ministers outnumber men 12 to 10 which on the evidence does not make for logical decisions. One example is the highly controversial abortion legislation amendments passed in parliament last year allowing late term babies to be killed.
Deputy Opposition Leader Tim Mander on Friday said decisions by "power hungry" Chief Health Officer Jeannette Young were inconsistent, including one that "defies common sense".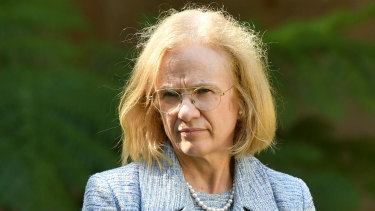 Discussing the emotional distress women often experience, the psychologist referred to the following article from the US publication Everyday Health:
"When a task as simple as a trip to the supermarket becomes an emotional ordeal, Morgan Sheets knows that her period is just around the corner.
The 29-year-old from Indianapolis says that during some months, she notices her emotions becoming more unstable in the five days or so before she is due to start menstruating.
"I begin feeling like everything in my life is wrong and that I'm leading the wrong life," says Sheets, a marketing director.
"Little things like making decisions about groceries to buy or getting dressed in the morning become monumental, and I agonize over them." Sheets says she also becomes much more sensitive and cries more easily.
Sheets is just one of the many women who experience premenstrual syndrome, or PMS, a collection of unpleasant symptoms, such as anxiety and bloating, that typically occur one to two weeks before menstruation and might influence behavior through in the menstrual cycle.
An estimated 85 percent of women experience at least one symptom of PMS per month, the American College of Obstetricians and Gynecologists estimates.
While PMS and its related hormonal changes are often talked about and are even the subject of endless jokes on TV sitcoms, the truth is that the hormones in a woman's body can influence her moods and actions throughout the month.
"We know hormone levels fluctuate throughout the month," says Diana Schwarzbein, MD, an endocrinologist and author of Menopause Power. "There are going to be corresponding fluctuations in other hormones that are definitely going to affect emotions, processes of thought, and physical well-being."
Here's what your reproductive system is doing during throughout your menstrual cycle and how hormonal changes may make you feel and act."
Many decisions made by women in power medically cannot be logical.  Older women going through menopause according to the psychologist, often suffer psychological problems and the nonsensical advice about epidemiology emanating from Dr Jeanette Young flies in the face of research from eminent virologists.
If she lived in India she would be sacred.