Category Archives:
Tasmania
More than 11,400 active cases
Nurses at Tasmania's biggest public hospital are threatening to go on strike next week as the state's health service faces increasing pressure from a surge in COVID cases (caused by mRNA jabs.)
Key points:
The nurses union is threatening strike action at the Royal Hobart Hospital next week
On Monday, the hospital was operating at level four of its escalation plan due to patient demand and staff absences due to COVID
Tasmania recorded its highest daily COVID death toll on Monday
On Monday, the Royal Hobart Hospital was operating at level four of its escalation plan, triggered when too many patients in the emergency department cannot be admitted to the hospital due to a lack of beds.
Gracie Patten is the Australian Nursing and Midwifery Federation (ANMF) delegate for the Children and Adolescent Ward and says staff on that ward have been directed to prepare to admit patients aged up to 25 years old instead of 18.
"The staff are stressed about it. We don't have the things we need for adult care," she said.
"I think we have three adult blood pressure cuffs on that ward. Obviously, they'll stock us up, but it just adds extra pressure onto our staff."
On Monday, 166 public hospital patients had COVID, and 44 were being treated specifically for COVID.
Four people died from COVID during the reporting period — three men aged in their 70s and a woman in her 90s — Tasmania's highest daily death toll from COVID so far.
There were more than 10,000 active cases, with another 1,411 reported on Monday. (Data from inaccurate PCR testing.)
(Similar results in other states when properly analysed in a lab have proven to be influenza 'A')
Daily data on COVID-19 cases, hospitalisations and deaths
The daily death toll has reached its highest level since February. Here's what the latest data shows.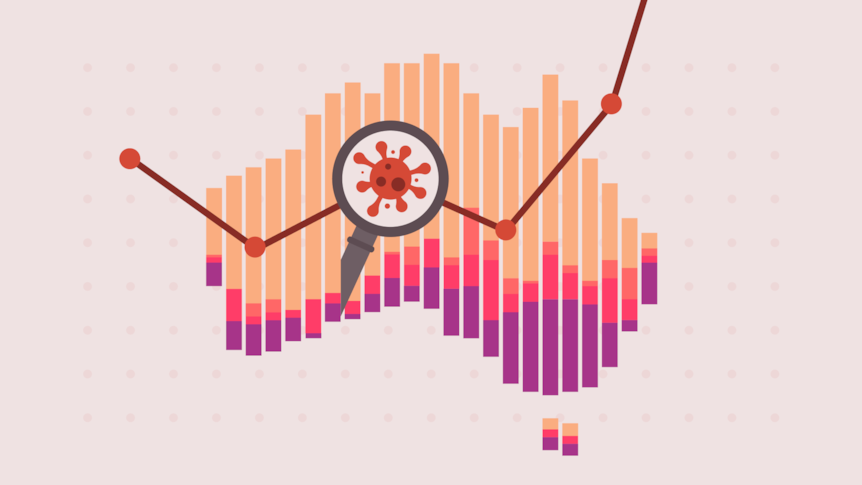 There are 117 health staff around Tasmania who are currently absent due to COVID and 11 outbreaks in hospitals.
On top of that, the ANMF said there was a national and international shortage of nurses.
ANMF Tasmanian executive director Andrew Brakey said Tasmanian nurses were exhausted.
"It's just become the norm that there is one staff member down on a night shift, which means there are eight to 10 patients which need to be spread across the remaining nurses on that shift."
"So our nurses are working 10-hour shifts with minimal breaks or no breaks to make sure that those patients are getting the care that they need over that time."
Tasmanian health authorities refuse to state how many of the hospitalisations were vaxxed.
from Port Arthur researcher and author Dr Keith Noble
No reply from Tasmania Police Commissioner Darren Hine  which makes him, like former PM John Howard, complicit in Australia's first government sanctioned terror event
REQUEST DENIED HINE DID NOT REPLY TO THREE QUERIES 17FEB2019 Darren HINE Tasmania Police Hobart TAS 7000 AUSTRALIA Commissioner HINE,
Thank you for your attention to the following non-copyrighted letter. An archivist in Tasmania (Nicki.Ottavi@education.tas.gov.au) presented an egregious paper at the national conference of the Australian Society of Archivists conducted in Perth, Western Australia, on 25-28SEP2018. Details related to Ottavi's presentation plus an image of her appear on p.xviii of the bookOFFICIALTERROR…. (768pp). [amended 05MAR2019]What follows are some of Ottavi's words from an electronic youtube tran-script.
No copies of her paper were made available to the public by Ottavi, or by the Australian Society of Archivists, or by Tasmania Police. WHY?: I…registered it into our system it became known as transfer to nine zero zero….; …Tasmania Police rec-ords of the Port Arthur massacre will be open to the public in 2071….; …they are an e75 access restric-tion which means they're closed for 75 years and the e means that only one person or position can grant access in this case only the Commissioner of Police.
Given Tasmania Police is a public agency funded 100 percent by taxpay-ers to serve not deny the public, Ottavi's words are shocking. They have generated more concern in Australia re the official terror at and near Port Arthur, Tasmania (28-29APR1996), a massacre in which international and national victims were killed (35) and wounded (23). Thus in relation to the boldface italicized words of Ottavi as appear above, you are herewith requested to address the three queries following:
Are Ottavi's words an accurate description of the official policy re the availability of Port Arthur massacre records held by Tasmania Police?; 2. Under what legislation are the Port Arthur massacre records held by Tasmania Police being secreted away from the public for 75 years?; 3. Under what legislation has the police commissioner been appointed sole arbiter of access re Port Arthur massacre records now held by Tasmania Police and now secreted away from the public for 75 years? 1/2 c
OFFICIAL COVER-UP PROOF PUBLIC DENIED POLICE RECORDS FOR 75 YEARS!POLICE COMMISSIONER SOLE ACCESS ARBITER!OFFICIAL MASSACRE PORT ARTHUR 1996
ADDRESSEE DARREN HINE; TASMANIA POLICE; 17FEB2019
A copy of this letter appears in OFFICIAL TERROR…. [amended 05MAR2019]Space for your replies to the three queries will be reserved in said book until 28FEB2019. If you do not reply, then your unacceptable failing will be highlighted in said book, and elsewhere in and out of Australia. Also note that if you fail to reply, it is understandable people will conclude there is no legislation in Tasmania that permits the withholding of public documents and/or permits a public servant (you) to be sole arbiter of access to public documents. If such legislation exists, it identifies Tasmania as a police state (a government that exercises power arbitrarily through the power of the police force– wikipedia). And finally, some points of concern for you – and our other readers: a)
You are a senior member of Australia & New Zealand SEBP (Society of Evidence Based Policing Inc.) On one hand it seems you value "Evidence Based Policing." But on the other you are willing to ignore exculpatory evidence confirming Martin Bryant is INNOCENT – this boy-man (66 IQ) is the patsy. Not only ignore it, but as a gate- keeper you are now participating in the withholding of exculpatory evidence from the public for 75 years.
Surely you understand the immorality of Bryant being denied an ethical lawyer, of him having his persistent NOTguiltyplea rejected,of him being falsely convicted with NO trial, of him being incarcerated in Risdon Prison since 1996, etc. b)Let us not forget James Boyce's LOSING STREAK: How Tasmania Was Gamed by the Gaming Industry. That officials covered up crimes is revealed in his 2017 book: "…at some point the file was accidentally misplaced or deliberately destroyed, and it cannot be located."
Corrupt officials do this with files containing truths dangerous to them. Dr.Boyce goes on:"The current police commissioner [you] has refused to give permission for the release of further supplementary material." So it seems you have withheld evidence in this gambling case. If true, the long-deceived people of Australia, especially families, relatives, and friends of all 58 victims officially shot at Port Arthur, can expect nothing from you re the records secreted byTasmania Police.
Sincerely, Dr.KeithAllanNOBLE;author Unit 72 B, Am Heumarkt 7 1030 Vienna, AUSTRIA  murder.research@gmail.com t. 43-1-9712401
The Tasmanian Liberal Party has won another four-year term, holding government after Saturday's election.
The best news emanating post-election is the stunning loss of two Greens seats, leaving a lone member. Greens leader of herself, Cassy O'Connor is a racist zealot and after hearing her losing speech on Saturday night, one could be forgiven for thinking she is a few sheep short in the pen.
O'Connor, resplendent with arm tattoos looking like a spokesman for the local chapter of Hells Angels, moaned-on how she wanted to give all of Tasmania to the blackfellas. Poor blackfella me was the gist of her tirade, after which she attracted three clappers from the mildly attentive Greens throng assembled at the electoral commission headquarters.
Miss O'Connor probably doesn't know that Trugannini was the last, real indigenous woman to live in Tasmania. She died in 1876. There have been a few imposters and interlopers since but history has it; there were no Tasmanian blackfellas alive after 1876.
Like all of Miss O'Connor's diatribe, this part remains a mystery as to which blackfellas she wanted to give Tasmania.
Predictably, after losing 28 straight opinion polls embattled Prime Minister Malcolm Turnbull has claimed some of the credit.
He has to gain some accolades from somewhere, self-aggrandisement or not.
Not all election analysists have lost sight of the bolstering effect of the shooter's vote which gave the Liberals victory.
Two days before the election a smart operator dropped a grenade; the Libs would overhaul the ineffective and costly gun laws adopted by the apple isle after Martin Bryant was framed for the Port Arthur massacre in 1996.
The mainland Liberals and Labor had better take a lesson from this most astute Premier and the gun lobby. Will Hodgman is a presentable, seemingly honest and smart politician the likes of which are sadly lacking in every other state.
We won't go near federal parliament.
The rest is history.