Blog Archives
How can the aboriginal people trust any co-operative agenda with this globalist-minded, covid-vaccine-addicted Government, even now as more light shines on Australia's recent unconstitutional, fraudulent election process?
The Qld Parks talk of planning for "sustainable livelihoods and economic development opportunities" sounds somewhat incongruous in terms.
Do the aboriginal people trust the promises made about the land to them, such as:
– become independent highly functioning land managers
– meet governance and land management obligations
– create networks and pursue economic development opportunities.
https://parks.des.qld.gov.au/management/programs/joint-management-cape-york
With the present Government it seems safe to say that all Australians will miss out. The local cattle producers and the aboriginal people.
Kevin Annett in Canada continues after many long years of seeing genocide of native peoples to disclose west coast puppet Indian chiefs as China's biggest allies in the robbing of Canadian resources and sovereignty.
http://murderbydecree.com/2022/05/09/breaking-news-may-9-global-alliance-forms-to-oust-corporatocracy-restore-liberty-a-special-global-communique-from-the-republic-alliance-an-international-federation-of-free-sovereign-nations/#page-content
It was reported prior to the election that Australia's Indigenous leaders were calling on the next Australian government to hold a referendum on a First Nations Voice to Parliament within two years. Labor has agreed to a referendum on a Voice to Parliament, and has also said it would establish a "Makarrata Commission" to oversee a national process for treaty and truth-telling. Labor MP Linda Burney has said, "An Albanese Labor [government] will work with First Nations communities towards a referendum in our first term".
https://www.abc.net.au/news/2022-04-11/aboriginal-leaders-call-for-referendum-on-voice-to-parliament/100982290
Back in 2013, the UNGA (United Nations General Assembly) High-level Political Forum (HLPF) on Sustainable Development stated: "The HLPF is well positioned to better integrate sustainable development into global economic governance and policies in order to improve the legitimacy and sustainability of the international economic order."
http://sustainabledevelopment.un.org/content/documents/2331Bernstein%20study%20on%20HLPF.pdf
Shortly afterwards, a Traditional Knowledge, Natural Resources meeting was organised by the United Nations University – Institute for the Advanced Study of Sustainability (UNU-IAS), on Respecting Indigenous and Traditional Knowledge and Culture at the IUCN World Parks Congress, which was held from 12 to 19 November 2014 in Sydney, Australia. Sponsors were Australian Government Parks Australia, NSW Government, National Parks and Wildlife Service, NSW.
Indigenous leaders from around the world, including Patrick Dodson (Australia), Victoria Tauli-Corpuz (the Philippines), Hindou Oumarou Ibrahim (Chad), Ramiro Batzin (Guatemala), and Aroha Mead (New Zealand) attended.
The UNU-IAS and International Union for Conservation of Nature (IUCN) World Commission on Protected Areas, ran the event called Nature-Culture Linkages: Stewardship of Biocultural Landscapes for Biodiversity and People. Here is their spiel in 2014 –
"The effective and equitable governance of protected areas is considered to be one of the best ways of slowing today's unprecedented loss of biodiversity. However, while their stewards may be equipped with legal instruments, resource constraints and other issues can make it difficult for protected areas to realize their intended effects. To achieve conservation targets, it is therefore important to recognize the need for cooperative management of buffer zones and corridors that border and surround protected areas. Increasingly, indigenous and traditional knowledge and land-use practices by communities in biocultural landscapes inside and neighbouring protected areas are being recognized for their potential contributions in this area. This session aims to stimulate discussion and solicit suggestions regarding the significance of biocultural landscapes, UNESCO's Man and the Biosphere Programme, and other protected landscapes, customary uses of biodiversity, and the concept of socio-ecological production landscapes and seascapes (SEPLS) as defined by the Satoyama Initiative."
https://ias.unu.edu/en/events/archive/side-event/respecting-indigenous-and-traditional-knowledge-and-culture.html#overview
So now in 2022 we are reaping the fruits of their unintelligent hypothesis.
Another session was held on Traditional Fire Management and Climate Change Mitigation, which linked "fire as a key tool in protecting economic, cultural and environmental assets."
These people are totally bewitched by the serpent. The aboriginal people are being used for totally nefarious purposes and I'm very sorry to see this.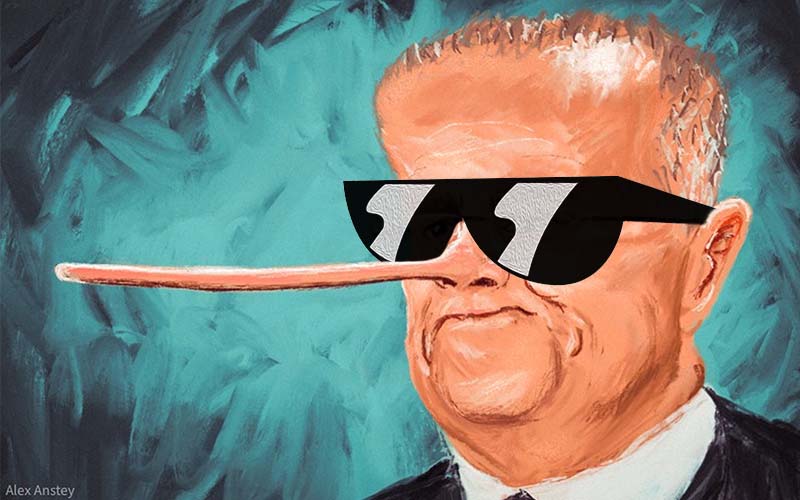 By Jommy Tee | Michael West Media
New evidence shows the Prime Minister's Office (PMO) interfered in denying a Freedom of Information (FOI) request by Michael West Media (MWM) into Scott Morrison's sacking from Tourism Australia in 2006.
MWM has been trying for months to obtain, via FOI, a copy of the 2006 Tourism Australia Board paper that discussed Scott Morrison's termination. Access to the Board paper was refused. This document could provide critical insights into why the board of thought it necessary to terminate Morrison's employment as managing director of the organisation after only 15 months. It is a document that no other media organisation has attempted to obtain previously.
As part of consultation process for our original FOI, Tourism Australia was obliged to consult the Prime Minister and seek his views on the release of the document.
We had to lodge a further FOI application to find out what consultation took place between Tourism Australia and external parties, including Morrison. The request uncovered 68 documents.
We were granted full access to two documents, partial access to 16 documents, and refused access to 50 documents. Read more
Morrison should step down, by Alison Ryan
From an article that was first published in the print edition of The Saturday Paper on Jun 8, 2019 as "Fresh documents in Morrison's sacking".
"…The Saturday Paper uncovered an auditor-general's report from 2008 examining the handling of three major contracts, which had delivered a scathing assessment of Tourism Australia's management.
The report provided the first indication as to the real reason Morrison was removed."
"The audit report revealed that information had been kept from the board, procurement guidelines breached and private companies engaged before paperwork was signed and without appropriate value-for-money assessments."
"Both before and since becoming prime minister in August last year (2018), Scott Morrison has refused to answer questions about why the tourism minister took the unusual step in July 2006 of sacking him as head of the agency. He has also refused to answer questions about the handling of the contracts, which were signed the previous year. He did not respond to questions for this story before time of press."
"The Tourism Australia board, on which Morrison sat as managing director, was then under the chairmanship of former deputy prime minister and Nationals leader Tim Fischer."
If our PM doesn't answer the questions and stops FOI requests, Mr Morrison is not batting for the people of Australia. He really should step down, but hardly likely.
KAP Federal Member for Kennedy, Bob Katter believes democracy has been compromised in response to the Senate President's decision to remove Senator Rod Culleton from the Senate before Senator Culleton's bankruptcy appeals have been exhausted. Mr Katter is resolute that the bankruptcy ruling is not final until the appeals have been exhausted.
Mr Katter said, "The Senate President has a very checkered past. This reputation has been reinforced by his precipitate actions which quite frankly raise issues of ultra vires.
"We would not expect fairness from the 'Senate Kangaroo Court' but ultimately there's going to be a lot of joeys looking for pouches to hide in after this appalling damage to democracy.
"The issue is fairly simple; they tried to railroad Senator Culleton out of the Senate for the loss of a $7.50 key of which he was subsequently found totally innocent. I just hope none of the Senators lose their hotel key when the hotelier doesn't like them. The most dangerous precedent has been created here.
"On the second Culleton issue of bankruptcy, the 'golden rule' prevails under the LNP / ALP junta that runs Australia. The 'golden rule' :–  he who has the gold, rules.
"Senator Rod Culleton did not have the money to fight off vindictive debt claims and being an average knock-about Australian, he was at a great disadvantage without the legal sophistication and big pockets of his opponents.
"If you can have the will of the people overturned for the loss of a $7.50 key and if you can have the will of the people overturned because someone doesn't have the big pockets to pay the legal costs to fight debts whether valid or not, then there is clearly a debasement of our democracy."